Tours & experiences
Explore different ways to experience this place.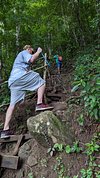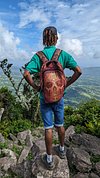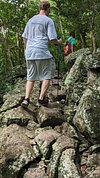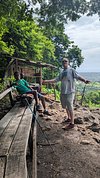 What is Travelers' Choice?
Tripadvisor gives a Travelers' Choice award to accommodations, attractions and restaurants that consistently earn great reviews from travelers and are ranked within the top 10% of properties on Tripadvisor.
See what travelers are saying
Hikers beware

Know what you're getting in for and set your expectations. If you're not much of a hiker this will seem extremely difficult. If you're used to hiking then this will seem fun. Except that there are a ton of hikers clogging up a very narrow trail. The issue I had with this hike is it cost $50 USD to access the park and a guide is required. Our guide wasn't fast enough to keep up with us so we ditched her on the way up and down. But it is one of Saint Lucia's must do activities and we still managed to enjoy yourselves. There is a stand at the bottom of the climb where you can get homemade ice cream and a beer and Gatorade. If you're coming from the north end of the island the road is washed out and you'll have to go around so the drive took a lot longer than anticipated.

Written January 13, 2023

Birds eye view

Beautiful, rugged, and challenging. The cost of $50 per person seems a bit steep when you are a family of 5. There should be some sort of a sliding scale once a group is beyond 2-3ppl. PLUS you are forced to take a guide. While some may need a guide, our family is pretty active and the trail is very clear and well marked. Yes, yes I understand the need for sustainable tourism and the need to employ local people, but that has to be balanced with affordability and beig taken advantage of just because.....

Written January 22, 2023

Read Reviews First

A lot of people we spoke to and even the guides describe this as a "moderate" hike to the halfway point and then say it gets strenuous for the second half, but I would definitely peg it as strenuous the whole way. Based on what I read before the hike, I was expecting it to be a switchback-style with smooth terrain, but the reality is that most of it is spent clambering up rocks. We only made it to the halfway point before calling it, and I was quite discouraged before our guide said about 30% of people don't make it- something I wish I'd known beforehand so I could have gauged the difficulty for myself. I'd definitely make sure to read more reviews and know exactly what you're getting into before paying the steep admittance fee.

Written January 30, 2023

Do it!!

After much consideration if this hike was too much for us, we did it. We are so glad we did. It is a challenging hike for sure, but worth the views and bragging rights. Our group, aged 54-65 were able to manage the challenging hike, which included relentless steep uphills, scrambling on all fours over boulder, and a brutal trip down. You can stop at the 1/4, 1/2, or 3/4 points, as well as powering all the way to the summit. Most of our group stopped at the 1/2 point, but one went all the way. Our guides were extremely attentive, supportive, patient, and encouraging. Give it a shot!!

Written February 2, 2023

Physically Demanding

This is a hike that is highly touted, but frankly, disappointing. It is not a "Nature Trail" but is a steep continuous and physically demanding scramble over rocks most of the way. It rained intermittently when I did this hike which added to the difficulty level on my way down due to slippery conditions. The view was nice from the summit - not necessarily spectacular if you have hiked other landmark trails elsewhere. I bought my entrance pass from the Soufriere Foundation at the trailhead. The guide they provided accompanied us but seemed quite disinterested in the process. She did not provide any information to us about the surroundings along the hike and only responded in monosyllabic answers when we asked a question. If you want the experience of hiking one of the iconic natural features of St,Lucia you should consider this. But only if you are in decent physical shape.

Written February 12, 2023

Hard but worth it

I would echo that of others and say it is really hard! It is mainly scrambling up and down rocks. We went with Merv "the mountain goat" and would definitely recommend booking a good guide in advance otherwise you will be assigned a guide. Merv was excellent and let us go at our own pace for the tricky bit and could answer all our questions about the nature and the area. For this reason we give it five stars. You can contact him on WhatsApp at +1 (758) 384 7844 I would recommend good shoes/boots. Don't bother with sun cream. I was a sweaty sun cream mess instantly and it's mostly shady. I didn't use poles as I wanted to use my hands which worked for me.

Written February 21, 2023

MERVIN the MOUNTAIN GOAT!

Gros Piton is a must if you are fit! My husband hit the top while I waited at the 3/4 mark (major bummer for me). It gets significantly more steep in the last 1/4 and I was not feeling confident. If you are less fit, the guides are more than happy to turn around - they are not going to push you too far. We saw folks turning around at various points of the trail. On our particular day it seemed the 1/2 way point was a popular turning point. We did the round trip in about 3 hr 15 min. However, if I had joined them for the last 1/4, it would have been much longer! I must plug our guide, Mervin the Mountain Goat! He was awesome! He kept things lively and fun, but most important - he was patient with me. We saw many guides far ahead of their group/not engaging. I highly recommend snagging Mervin if you can (WhatsApp +1 (758) 384-7844). I think he really loves Petite Piton, but does the Gros too.

Written February 27, 2023

Unprofessional Guides

The hike itself was great...excellent exercise with some great views. It is fairly steep though and more like scrambling over rocks than walking/hiking. Our problem was related to the guides. We were charged $50 per person to do the hike and were assigned a guide. A few other couples showed up around the same time as us and were also assigned their own guides. The group sort of did the hike together though and for the most part, the guides completely ignored all of us tourists. They spoke a great deal to each other though in broken French / Creole. I speak French and from what I could understand of the conversation, they were mostly making fun of us/the tourists. It was extremely rude and I wouldn't recommend paying $50 a person to be mocked. I'm not even sure why they were so rude...we were all in our thirties and forties and hiked to the top fairly quickly without any real breaks or complaints.

Written March 9, 2023

Great - and Steep Hike!

We were 6 people in our mid-fifties/early sixties - but all experienced day hikers. We hired Mervin the Mountain Goat for our guide. Mervin was very helpful before our trip - confirming our day and time, etc. He and his colleague Steven were very patient and encouraging throughout our hike. While it is a relatively short hike in mileage, there are several sections that are quite steep. It is about a 4 hour hike (2.5 up and 1.5 down) covering a little over 4 miles in total. Definitely grab a beer or ice cream when you get down. Also recommending starting early to avoid the heat. We started at 8 am, but would even start earlier! Great hike!

Written March 12, 2023

Challenging hike. If you're fit enough then it's great!

This is a challenging hike for those who aren't used to steep trails. Please do some research before committing to this. It takes about 4 hours total and you do about 700m up to the summit. It is pretty much straight up with no flat parts. Some sections steeper than others. There are great wood hand rails that allow you to pull yourself up, which makes it much easier. The guides are very good and will help you. Definitely try to get there early as it gets hot. Bring at least 1.5L of water per person. Hard to say if it's good value for money, but it's beautiful and breaks up sitting on a beach all day long.

Written March 14, 2023
These reviews are the subjective opinion of Tripadvisor members and not of TripAdvisor LLC. Tripadvisor performs checks on reviews.
Detailed Reviews: Reviews order informed by descriptiveness of user-identified themes such as cleanliness, atmosphere, general tips and location information.
---
---
Is this your Tripadvisor listing?
Own or manage this property? Claim your listing for free to respond to reviews, update your profile and much more.
Claim your listing
GROS PITON NATURE TRAIL: All You Need to Know BEFORE You Go (with Photos)
Frequently Asked Questions about Gros Piton Nature Trail
---
According to Tripadvisor travelers, these are the best ways to experience Gros Piton Nature Trail:

---

---

---